Close this Window:
LOCATION
Cedar Ridge
Community Church
2410 Spencerville Road
Spencerville, Maryland 20868
phone: 301-384-7444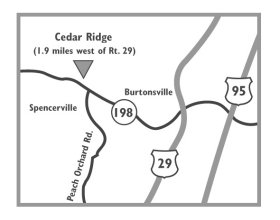 DIRECTIONS
From the Washington Beltway:
Take Colesville Road/Rt.29 North toward White Oak. Continue on Route 29 for about 9 miles. You will pass the White Oak Shopping Center (on the right), the Bell Atlantic complex (on the left), Fairland Road, Briggs Chaney, and Greencastle Road. At the next major intersection you will take a left onto Route 198. Go 2 miles. Cedar Ridge is on the right.
From I-95:
Take Route 198 West to Burtonsville (I-95 exit #33B). Continue west across Route 29. Go 2 miles past Route 29. Cedar Ridge will be on your right.